February 27, 2013 – How I Became Interested in Genealogy: The Search for Sven Hög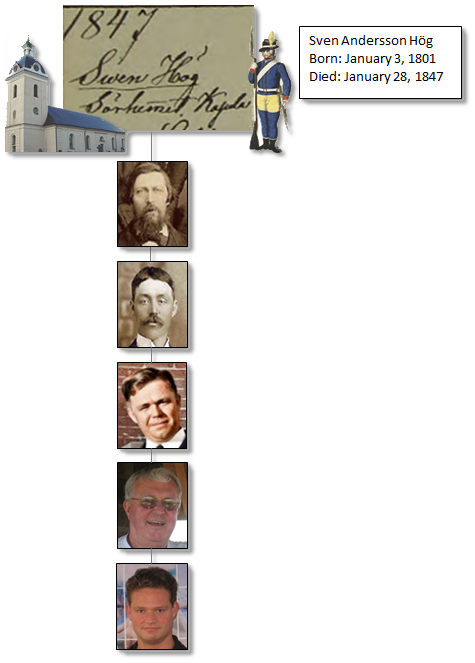 Although I first learned of my great-great-great-grandfather, Sven Hög, when I was 13, I waited fifteen years before I actually pursued any research on him. I would have loved to have found out more about the patriarch of the High family, butI had no idea where to begin at the time. After all, this was years before grandiose repositories of genealogyrecordssuch as Ancestry.com and Arkiv Digital were only a few clicks (and a credit card payment) away!
From time to time, I spoke with my dad and my uncle about their direct paternal great-great-grandfather.Outside of what the 1972 High book mentioned on Sven, the only other speculation about him tied into his surname. TheEnglish translation of the Swedish word "hög" is "high." When the four children of Sven Hög immigrated to America, they had their surnames changed to the English equivalent. Since the Swedish letter "ö" doesn't exist in the English alpahabet,Sven's children probably didn't want to be called "hogs." Henceforth, they had their surnames changed to "High" shortly after they arrived to America.
Sven wasn't born with the surname Hög; it was assigned to him when he enlisted in the military. The word "hög" can also mean "tall" or "lofty." Myfamily believed that the reason Sven was assigned this surname was because of his tall height. I remember my great-uncle, Chester High, once describing a family Bible that his grandfather, Gustaf High, owned, which had the surname "Swenson" inscribed on it. Because of this, it was assumed that Sven's surname had been "Swenson" before he joined the military. Eventually, I would discover that both of those assumptions were false.
In 2005, one of my friends briefly worked for Ancestry.com.During this time, he set me up with an offer where Ancestry.com would conduct free research for any ancestor of my choosing. I saw this as an opporunity to find more information about Sven Hög. When a genealogist from Ancestry.com called me about this offer, I gave him the scant information the 1972 book listed about Sven. I never heard back from Ancestry.com about this, and assumed that there was no luck in finding anything about my ggg-grandfather. It seemed unlikely that any official information on Sven Hög would ever be found.
A year later, I was involved in a very bad car accident while driving cross-country through Kentucky. Although I was lucky enough to avoid any injuries, the event was quite traumatic. My car was demolished and if circumstances had been different, I could have been killed. In times of near death experiences like this, one often finds themselves re-examining their purpose in life. This certainly rang true for me, and the following four months was one of the most insightful and proactive times of my life.
Shortly after the accident,I discovered what a nightmare it can be dealing with an insurance claim for an out-of-state car accident when multiple insurance agencies are involved! Despite being given the run-around at least a dozen times by various insurance people on the phone, I refused to give up. Although my patience was wearing a little bit more every time I heard the words "I'm sorry, I'm afraid I can't help you with that. Have you tried contacting so and so?" I knew that the sitation was far too pressing to give up on. I created a document in Microsoft Word where Iregularly kept detailed notes and ideas on my claim, starting calling insurance agents more frequently if they didn't get back to me, and became more firm and assertive with them about my situation. After over twenty different phone conversations with different insurance agents, things finally came together and I received compensation for my totalled car.
Somewhere along this process, a random thought popped into my head: "What if I was this persistent in finding out more about Sven Hög and my paternal Swedish ancestry? I bet I might actually find something then!"At the time, I had no idea how much truth was in that statement!As I reflecton it, it feels like that random thought was divinely inspired.Little did I know, the amazing journey I was about to embark onwould change my life forever! Not only was I going to finally shed light on a mystery that had eluded my family for three generations, but I was about to enter into the remarkable and intricate world of genealogy!!
After I had finished dealing with my insurance claim, I decided to finally make the jump into the field of genealogy and see if I could unearth any new discoveries on Sven Hög and the High family's Swedish ancestors. I joined Ancestry.com and entered all of the information from the 1972 High family book. Although Ancestry.com would later prove to be very helpful in learning more about the descendants of Sven Hög, it told me nother about the patriarch of the High family. Thus, I decided to look into another source. After typing "Swedish genealogy" in Google, I found a company which offered services in Swedish genealogy, which I proceeded to email.
Within a day after my email, I received the following response to my enquiry:

I immediately noticed that some of the information this researcher found conflicted with what was in the High Family book. For example, while the High Family book listed that Sven was born in 1799, this researcher found that he was born in 1801. Likewise, the name of Sven's wife wasn't listed as "Anna Kilstenia" but as "Anna Stina Johansdotter." There was enough information, however, that matched (such as Sven's death year, his occupationas a soldier, and the exact samedate for Sven and Anna Stina's marriage) to convince me that this Sven Högwas indeed my ggg-grandfather. Thus, I happily authorized 10 hours of research to be conducted on my Swedish ancestors.
About a month later, I received one of the most exciting emails that has ever appeared in my Inbox – the results of my research! Not only was I given a brief summary of Sven and AnnaStina's lives, but I also learned who their parents and grandparents were!! As I opened each attachment that was sent to me on my Swedish ancestors, my soul was brimming with feelings of excitement. It was a bit surreal to read over information that my grandfather's generation had spent decades trying to find!

You can
leave a response
, or
trackback
from your own site.