May 16, 2013 – The High Family's 150th Anniversary Reunion
August 3, 2008, marked a monumental occasion for the High family. On August 20, 1858, my great-great-grandparents, Gustaf and Anna High, immigrated to the United States from Sweden. In commemoration of the event, I organized a 150 year family reunion. As a child, my family often attended the High family reunion, which was always held the first Sunday of August. When I grew older, I got caught up in other things and stopped attending. As the generation of my grandparents slowly died out, interest in reunions waned, with the last reunions only being attended by 20 to 30 people. Sadly, by the mid-2000s, the tradition of the High family reunion all but died out.
The idea for a 150 year reunion came to me in 2007, during my work on my second family manuscript: The High Family (1726-2007): Second Edition. I knew if such an endeavor were to be successful, something had to be done to reignite people's interest in the family and motivate them to come to an event where they might not know too many people. One of the key reasons, I believe, why the reunion tradition died out was because younger generations (like that of my own) were starting to not know who the other people there were and might have felt a little bored and awkward coming to such events. While the generation of my father mostly knew each other from childhood (a time where extended family gatherings were much more common) in my own time, I didn't know who most of the people were at reunions or how they were related to me. Although many people were sad that the reunions died out and were hoping for them to return, it was getting to be too much work for anyone to arrange for one to be held. The fact that very few people were attending them also made it somewhat discouraging for those who spent their time and efforts planning an event, only for very few to attend or show an interest.
I can more than relate to the frustration that the organizers of the family reunion must have had in recent years. One of the most frustrating things in life, I believe, is when you work very hard on something, hoping that people will have an interest in it, and they end up not and all that work is in vein. This of course goes back to the Circle of Influence and Circle of Concern idea. For example, when I spend an hour or so writing a blog – only to have no comments and very few views, I get really upset! Yet as authors such as Stephen Covey or Dale Carnegie have demonstrated, there IS a way of getting through to people and expanding one's one Circle of Influence. One simply has to understand various principles of human behavior.
With all of that being said, all of the thousands of hours I have invested on my family research finally paid off. As mentioned before, I first put word of the reunion a year ago to relatives. With the assistance of all the work I had been doing on the book and high level of communication I had developed with several family members, a strong amount of interest grew among family members in regards to learning more about their ancestors as well as getting to know their extended relatives. A few months ago, I started sending out flyers to family members inviting them to the event. As I invited them, I stressed to the importance of the event, informing them that it would be more than a typical potluck. In addition to the potluck part, there was a display table hosting several old photo albums, family heirlooms, as well as copies of the book I had written. During the last few weeks, I called several relatives reminding them of the event and asking them to put the word out among other relatives.
As the time grew closer to the reunion, my emotions were a mixture of stress and excitement. Simply from talking to other people who had rsvped me, I had a good feeling that at least 70 people would show up. My initial goal, however, had been for the attendance to break the 100 mark. When I told a distant relative of mine about that goal (a woman who has arranged the family reunions over the last decade) she told me "Dream on!" Yet, I felt that if I shot for a very lofty number, all the work in trying to get such a turnout would at least guarantee over 60 people to show up (previous attendance records were probably in the sixties or seventies).
Even though I was excited to finally get to meet many of the relatives I had spoken with over the phone, I knew that it was going to be a lot of work to put the reunion together. On Sunday morning, I woke at 4 AM and made my way to Seven Mile Creek (a park situated between Mankato and St. Peter, Minnesota) where reunions were held back when I was a child. Despite the fact that the reunion started at 1 PM, I busied myself for most of those 9 hours getting the tables ready, setting up the display table, ect. I was fortunate to have the assistance of my dad, step-mom, and a third cousin of my dad's wife (the woman who had previously been organizing reunions) in preparing everything.
Around noon, family members started showing up. Car after car arrived, with family members I had either gotten to know – or ones I have yet to – get out and make their way into the picnic shelter. By the time 1:00 had rolled around and the reunion officially got started, an astounding number of people surpassing the 100 mark had arrived. Liz, the relative who helped me organize the event, said to me "I think that it's a success." Shortly after 1, a second-cousin of mine and myself drew the crowd's attention. I was flattered when my second-cousin had the audience give me a huge round of applause – a moment that undoubtedly ranks in the top 5 proudest moments of my life. Once people started eating (from a selection of two tables worth of dishes), I noticed that so many people had come that a few people had to eat standing up!
There was rarely a calm moment for me at the event because I was so busy giving people cd's of the book, scanning in old photos relatives ha… This was a little frustrating for me as I would have loved to visit more with relatives instead of running around like a chicken with its head cut off. Despite my own stress however, I was pleased to see so many relatives enjoy themselves and see relatives they hadn't seen in years. Many people came from several hours away to attend the event, with one of my dad's cousins driving all the way from Illinois with his wife (a 9 hour journey)!
After dinner, a family picture was taken – the largest family photo ever taken in the High family. Unfortunately, a few people had to leave before the photo was taken, but most of them are in it: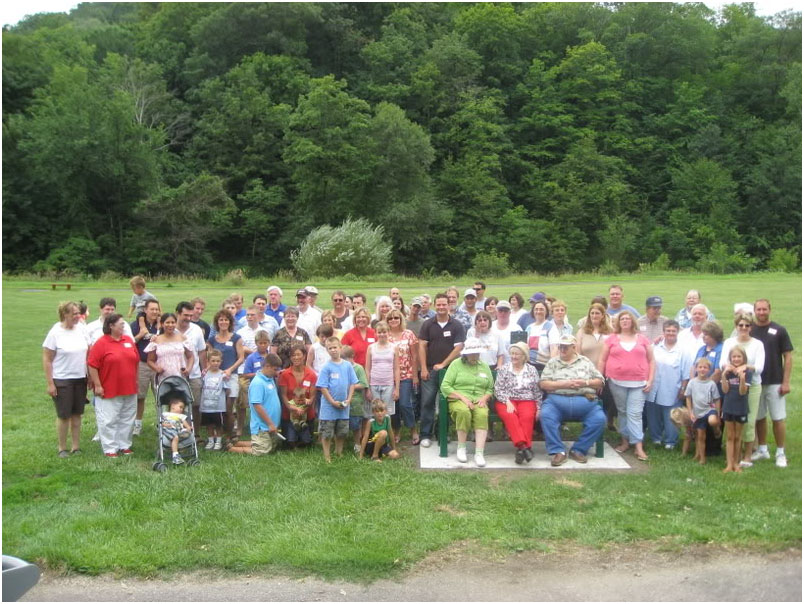 Descendants of Gustaf and Anna High
Another noteworthy tidbit to add was that over 60 people present alone were descendants of my great-grandparents (all of whom I wrote about in my book). I can only imagine how many more people would have showed up if I included information about all of the descendants of my great-great-grandparents, much less great-great-great-grandparents (the original patriarch and matriarch of the High family.) I hope that others with an interest in genealogy will read this blog and realize how much one person CAN make a difference and bring the family back together if they work hard enough and not give up.
After the pictures were taken, the family returned to the shelter where they were treated by the music of a few family members playing old songs like "She'll Be Coming Around the Mounatin") with guitars and banjos. My 14 nephew, Anthony (who is blind), also briefly joined in with them, playing the violin. While such music was always played at family events in the time of my father's childhood, it never was in my own. In many ways, it was like stepping back in time.
Although it was stressful running around and trying to talk to so many people, it was extremely rewarding. So many people came up to me and praised me for all of my work. That day, I realized that I had found perhaps the biggest circle of influence in my life. I learned that there is still a tremendous level of interest in my family heritage among family members and that all of the work I did really paid off in the end. What is more important to me than praise and gratitude however, is that family members are taking in interest in ancestors who names and legacies were beginning to fade from memory because of the passage of time. It is equally important to me that everyone had a wonderful time. Of course it was great to receive so much thanks and praise, but to me, those things are more important.
I want to thank all of the family members who made it to the event, those who helped me set it up, and most of all God for making all of it possible. In my heart, I believe that this was meant to be and it succeeded so well because he wanted it to. Two years after writing the introduction to my book which addressed the discouraging situation of family reunions and interest in our ancestry, the future of the High family is looking healthier than ever.
I could write for pages more, but realize I'd better wrap this blog up. The purpose of this blog is as much for me to read in future years as it is for my readers, so even if the ugly trend of little blog views and comments continues with it, at least I'll have that satisfaction in later years.
You can
leave a response
, or
trackback
from your own site.